Huge congratulations to Angel Huizar, former Soundcraft employee, who smashed the Cambridge Half Marathon this weekend as part of her London Marathon training for O2e children's charities.
Angel is now preparing for the big one – so it's double the training and double the distance for The London Marathon next month – how amazing would it be if we could also double the donations for O2e, Soundcraft's nominated charity.
Determined to make it past the 26-mile finish line on 26 April, Angel said: "This was my first big run and it was a tough one on the training plan, but there's no better charity to challenge myself for – O2e does such amazing work in raising funds to help little ones with disabilities and life-threatening illness. I'm proud to be part of the O2e family, so bring on London!"
You can help boost Angel's efforts and put a little wind beneath her wings by adding a few pounds to her JustGiving Page, your support could make a life-changing difference to UK children who really need our help.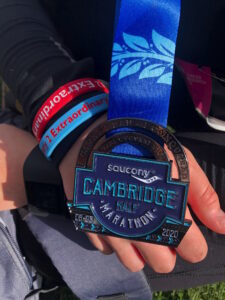 O2e is a 100% non-profit making organisation, so every penny will reach the disadvantaged children who are supported by this year's chosen charities.
Please click here to donate to Angel's London marathon challenge for O2e