Soundcraft is a major independent UK company founded on 50 years of timber expertise and proud to be a certified member of the BM TRADA Q-Mark Fire Door Installation Scheme.
Engineered as a life safety device designed to hold back smoke and flame for a set period of time, fire doors have always been integral to the highly skilled Soundcraft offering, for which the company undertakes rigorous audit and testing processes.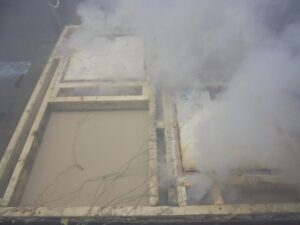 Ensuring specification responsibilities for every project are met with certification through the BM TRADA Q-Mark Scheme for Fire Stopping Installation, Soundcraft's Managing Director Rob Thomson said: "Providing the UK construction industry with specialist installation together with primary test evidence for fire doors and screens is paramount for performance. Our commitment to maintaining the highest levels of workmanship, safety and service ensures the fitting of Soundcraft's fire rated timber doors are always accredited and audited – consistently meeting the performance requirements of BM TRADA for Q-Mark Fire Door Installation to STD052 standards."
BM Trada is one of the UK's leading providers of independent third party certification, a quality standard accredited by UKAS, appointed by government to assess and accredit organisations that provide services including certification, testing, inspection and calibration. As such, BM Trada independent third party certification is the highest form of endorsement and increasingly specified by architects, contractors, facility managers, local authorities, housing developers, procurement managers and social housing providers.
Design, Manufacture and Installation of Bespoke Performance Fire Doors
Soundcraft designs, manufactures, supplies and installs one of the widest ranges of bespoke performance fire doors for the UK construction industry. With an established and trusted reputation, Soundcraft's capabilities to supply and fit can be seen across significant projects spanning key industry sectors where vital fire resisting and security specifications are required.
Soundcraft specialists are appointed to meet vast projects and complex specifications for fire door installation and essential upgrades; from social housing schemes through to architectural London landmarks.
We showcase a selection of Soundcraft's timber fire door portfolio: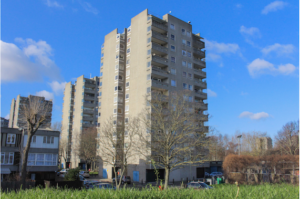 Soundcraft delivers Primary Test Evidence expertise at Thamesmead tower blocks. Soundcraft has successfully manufactured and supplied in excess of 1,000 fire-resistance front entry doors for individual homes throughout 21 tower blocks across the Thamesmead Estate in South London. VIEW PROJECT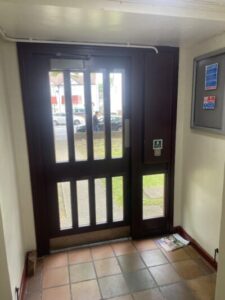 Soundcraft's pioneering portcullis doors in demand for social housing. Appointed to provide design, manufacture and installation expertise for 11 social housing blocks in London with more than 40 hardwood communal security portcullis doors, Soundcraft meets social housing compliance and sustainability requirements. VIEW PROJECT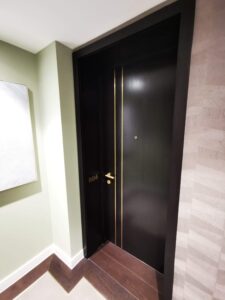 Bespoke doors by Soundcraft specified for architectural innovation in the capital. A major contract at the luxury Triptych Bankside development specified Soundcraft's fire resistant FD30S entry doors for each apartment. Designed in dark walnut stained oak veneer with inlaid brass strips into the face and SBD certified to PAS24 rating for high security performance. VIEW PROJECT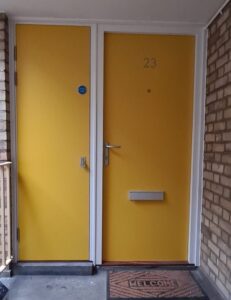 Soundcraft undertakes essential fire door installation for London & Quadrant Group. Delivering for the UK's leading housing association, Soundcraft fulfils fire door installations as part of the group's ongoing fire upgrade programme. Operating within stringent guidelines, Soundcraft swiftly provided PAS24 Secured by Design FD30s flat front entrance doors, both internal and external grade, alongside FD30s tenant and electrical storage cupboards. VIEW PROJECT
Soundcraft delivers on six phases at London's Royal Wharf. The Docklands landscape continues to showcase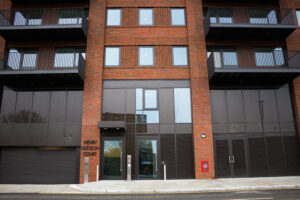 Soundcraft's high-profile expertise. Working alongside key carpentry subcontractors, the Soundcraft team successfully delivered timber PAS24 SBD entrance doors and door sets, internal paint-grade flush doors, FD60 rated fire doors and FD120 communal area fire door sets, together with access controlled PAS24 FD60 rated sets. VIEW PROJECT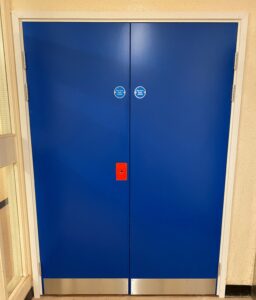 Continuing its successful track record with local authority projects. Soundcraft completes further upgrades for high-rise residential towers. Integral to important fire upgrade and fire stopping safeguards, Soundcraft supplied Q-Mark certified 60-minute and 30-minuite doors sets, singles and pairs, both glazed and flush, together with glazed side screens and fanlights. VIEW PROJECT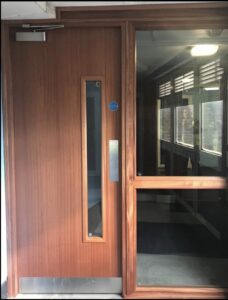 Soundcraft completes safeguarding fire door contract ahead of schedule. An extensive fire door upgrade of three 14-storey buildings required Soundcraft's installation of new FD60 fire doors and screens on all floors of each high-rise block. The fire door upgrade to communal areas provided 60-minute integrity and insulation with Q-Mark certified fire-resistance doors, installed and constructed from solid particle board core with crown cut Sapele veneer, and the screens from solid Sapele, all finished in clear lacquer. VIEW PROJECT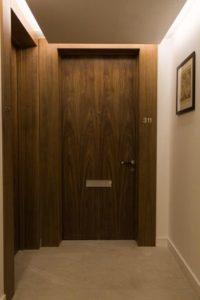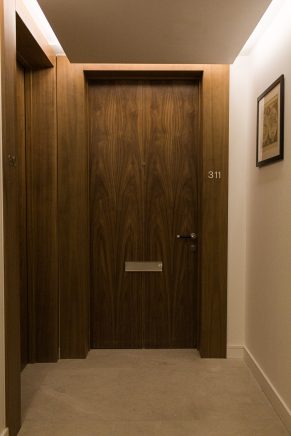 Soundcraft fire safety and security doors at London's iconic South Quay Plaza. Prior to the manufacture and supply of 600 apartment entrance door frames, architraves and matching reveals for this impressive development, Soundcraft was commissioned to undertake two project-specific fire tests in order to provide primary test evidence for the entrance doors. Comprising of all ironmongery and fixing detail used on the site installation, it provided apartment entrance door sets for compliance with FD30S fire rating and certified PAS 24 SBD security rating. VIEW PROJECT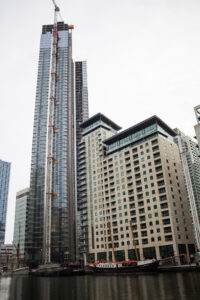 Soundcraft's certified fire doors are fabricated under the BM TRADA Q-Mark Manufacturing Scheme and fitted under the BM TRADA Q-Mark Installation Scheme, ensuring we meet supply chain criteria for many of the UK's largest construction companies. To find out how Soundcraft can assist you with your next project, please call our UK technical and sales helpline on 0800 988 1875, email technical-sales@soundcraft.co or request a call back.