In another successful project for Lidl with supply partner Senior Architectural Systems, Soundcraft has completed work at the impressive Waterline development in Wembley.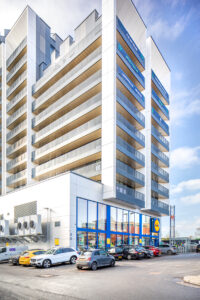 Soundcraft specialists were contracted to manufacture and install performance doors and curtain walling for the construction of Lidl's new store at The Waterline; a residential-led project which includes a landmark 27-storey tower set on the banks of the Grand Canal, creating 251 private and affordable homes in north west London.
As an integral service offering to this successful mixed-use development, the 17,000 sq ft Lidl food retail store, complete with a spacious café, saw Soundcraft's expertise at work in the fabrication and installation of SF52 curtain walling on the main façade combined with robust SPW501 aluminium commercial doors and Soundcraft's own Secured by Design Integrity Door Range.
While the canal-side and rail-side location provided challenges, the expansive café area included sloped roof glazing elements, said Soundcraft Senior Estimator, Steven Maslin: "This curtain walling section spanned two floor levels with no midspan structural support, so requirements for additional large screen reinforcement were essential to accommodate not only span levels but also the customer check-out packing shelf – incorporating extended curtain wall feature fins with 200mm cover caps to meet our client's specific design specification."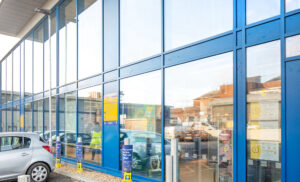 The large, glazed units also required contract lifting equipment, managed by Soundcraft and its appointed subcontractors, ensuring the important shelving aspect met with Lidl's zero waste, no-frills 'pass-the-savings-to-the-consumer' approach. Soundcraft teams additionally delivered high-level LPS1175 rated doors to enhance security systems together with specified Lidl sliding entrance and exit doors to provide safe and secure access at ground level.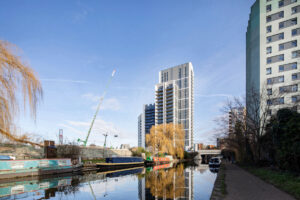 Designed by Alan Camp Architects, the Waterline development was built by HG Construction in the London Borough of Brent.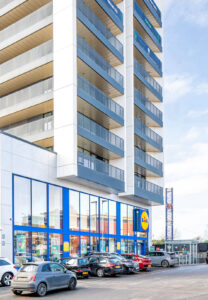 To find out more about how Soundcraft can assist you with your next project, please call our UK technical and sales helpline on 0800 988 1875, email technical-sales@soundcraft-doors.co.uk or request a call back.