The £1 billion Kidbrooke Village Regeneration Scheme is hailed as one of the capital's most successful new housing-led developments, transforming the area for a new sustainable community in partnership with the Royal Borough of Greenwich and the Mayor of London.
Soundcraft was appointed by leading UK developer Berkeley Homes, as part of its significant 20-year vision, to undertake the high-level manufacture and supply of enhanced thermal performance products across the vast London project in SE3.
As the Kidbrooke Village Regeneration Scheme continues apace, we can reveal the latest Soundcraft update, working closely with supply chain partner Senior Architectural Systems alongside international award-winning Reddy Architecture to meet meticulous specification standards for SF52 Curtain Wall, PURe Commercial Doors and Soundcraft's Integrity Security Doors.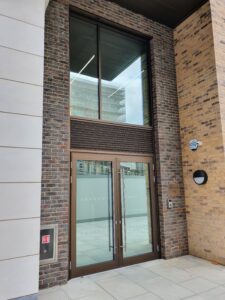 Driving through industry challenges of recent years, the Soundcraft production team has continued its sharp focus on the manufacture of large expanses of SF52 curtain walling designed to exceed current building regulations with configurations for exceptional weather-tested performance, together with PURe Commercial Doors that provide impressive thermal efficiency as low as 0.94W/m2K, and Soundcraft's Integrity Communal Entry Doors with Secured by Design accreditation.
Soundcraft specialists are currently working across Phase 3 at Kidbrooke Village, one of six phases totalling 1,238 units. The manufacturing focal point is now on block C; a single-storey tower comprising 104 apartments with communal and commercial space, and block D; 334 mixed-use apartments across five cores of varying height, single-storey apartments plus duplex and triplex units. Together, both blocks will provide almost 500 units in six towers, which range up to 17 storeys in height.
Berkeley's vision is to create a sustainable development – transforming the former Ferrier Estate into a new village for London with a vibrant community and thriving village centre. Soundcraft will continue on site as the project progresses, for further information and the latest updates, take a look at the Kidbrooke Village Regeneration Scheme
Did you know? The Kidbrooke Site has an historic past as the highly acclaimed RAF base. Following World War II, the site was marked for development and became the Ferrier Estate built in 1968 by the LCC and was deemed the height of post-modern brutalist architecture. Having become a sink estate by the 1980s, it was marked for development by Greenwich Council in 2001, and in 2007 Berkeley Homes was selected as preferred development partner, when the Kidbrooke Village partnership was born.
To find out more about how Soundcraft can assist you with your next project, please call our UK technical and sales helpline on 0800 988 1875, email technical-sales@soundcraft-doors.co.uk or request a call back.