Soundcraft was called upon by AD Construction Group to undertake vital fire door safety upgrades in coronavirus lockdown conditions.
Works at the Cearns House residential block in London E6 were deemed so important that they were carried out during lockdown by Soundcraft, operating within the stringent Risk Assessment Method Statements (RAMS) laid down by main contractor, London and Quadrant.
Tasked with removing existing fire doors and side panels in communal stairwell areas throughout the 14-storey tower, Soundcraft was also responsible for the complete upgrade installation of 60 Minute Oak Veneer fire door sets and glazed side panels.
Jon Fellows, Contracts Manager for AD Construction, said: "Soundcraft's output and professional compliance on this project has been hugely impressive. Despite the enormous Covid-19 constraints in place, the essential installation was successfully completed and handed over on time."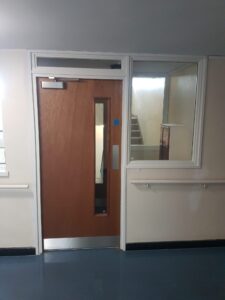 Pictured: The fire doors and side panels are BM TRADA Q Mark manufactured and installed under the Soundcraft BM TRADA Q Mark installation certification.
To find out how Soundcraft can assist you with your next project, please call our UK technical and sales helpline on 0800 988 1875, email technical-sales@soundcraft-doors.co.uk or request a call back.