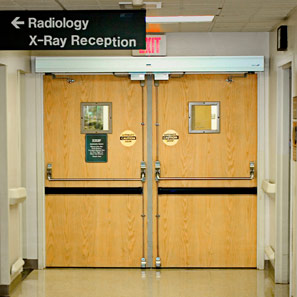 Soundcraft's specialist X-Ray doorsets provide resistance to the passage of X-rays, in accordance with regulations laid down by the National Radiological Protection Board; our X-Ray doorsets use lead as the radiation shield.
Particular care is taken to ensure that all elements of the doorset provide a continuous x-ray shield by ensuring that architraves, frames and stops incorporate lead sheet of the requisite thickness.
Sound reduction, fire resistance and a range of finishes are also available.